Walk El Camino Santiago with Reverend Bonnie 2016

Is The Camino de Santiago urging you forward to walk it? Each person who is called to The Walk is called to know more of themselves, quench a burning inquiry, challenge their physical capacity, and/or deepen their spiritual understanding. There are several different paths to choose, with the most common beginning in France and ending in Sant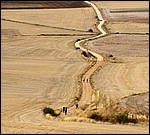 iago, Spain, approximately 500 miles in length.
Reverend Bonnie and friends are planning to walk El Camino for ten days in September of 2016, averaging twelve to fifteen miles per day. We have arranged to have luggage transported from one village to another so that carrying backpacks and sleeping bags isn't necessary. Trip prices and details are currently being negotiated and will be revealed as they are known.
Each month between January and the walk, we will gather to learn about the pilgrimage through books, DVD, and guest speakers; open to those who will join us on the walk AND the general public.
Be sure to become part of a community member by adding your email address to the top of the page in the box provided. This way you will receive notification on upcoming Camino Events.
Below are some snap shots of people's experiences of The Walk … Try it on. Is it yours to do?
Buen Camino,